Earthwood Collections at Estes Park
Earthwood Collections at Estes Park
Our Galleries Are Closed Until Further Notice For Everyone's Safety
In The Meantime, Enjoy Browsing and Shopping Here Online!

Your local source for Unique American Fine Art and Handcrafts in downtown Estes Park, Colorado
Featured Gallery Events | Find Us on Facebook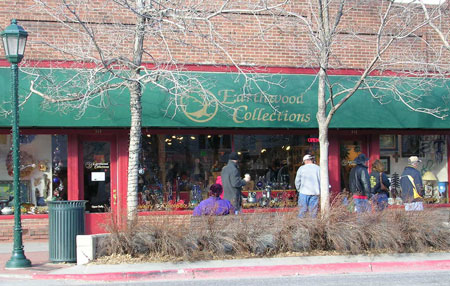 Front of Earthwood Collections at 141 East Elkhorn Avenue

Find that perfect piece of amazing hand made art from more than 120 of the best American Artists. Earthwood Collections is located at 141 East Elkhorn Avenue in the middle of the action in downtown Estes Park, Colorado. Call us if you have questions or need assistance:
(970) 577-8100
Visit the gallery and you will find American made pottery, jewelry, photography, prints, paintings, art glass, metal art, stained glass and more. Have fun visiting the gallery or shopping online!
Large Hand Blown Glass Bowl by Rollin Karg. Let us help you find that amazing piece of Art Glass.