Earthwood Collections at Estes Park
Earthwood Collections at Estes Park
Your local source for Unique American Fine Art and Handcrafts in downtown Estes Park, Colorado
Featured Gallery Events | Find Us on Facebook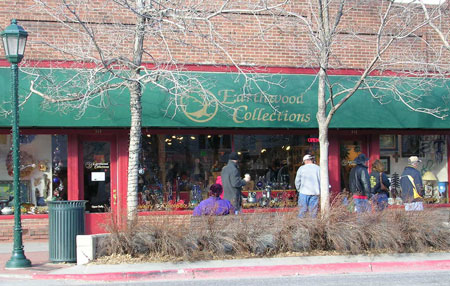 Front of Earthwood Collections at 141 East Elkhorn Avenue

Find that perfect piece of amazing hand made art from more than120 of the best American Artists. Earthwood Collections is located at 141 East Elkhorn Avenue in the middle of the action in downtown Estes Park, Colorado. Call us if you have questions or need assistance: 970.577.8100
Visit the gallery and you will find American made pottery, jewelry, photography, prints, paintings, art glass, metal art, stained glass and more. Have fun visiting the gallery or shopping online!
Large Hand Blown Glass Bowl by Rollin Karg. Let us help you find that amazing piece of Art Glass.
Friday, 5/3/2019, 5-8 PM
Enjoy the May First Friday Art Groove with Earthwood in Estes Park! Live Jazz concert in the gallery with Max Wagner (sax) and Stu MacAskie (piano). This concert is FREE and Fun. Fine Art Show with Loveland artist Vicky Russell. Complementary refreshments, wine and snacks are provided. Ride the FREE trolley that circulates between the participating galleries. Great fun — invite all your friends and enjoy the cool fun in downtown Estes Park every First Friday, year round.
Our wide selection of American Art always makes it easier to find that perfect gift for your loved ones!
Mark your calendars - we host new shows every month and hope you can attend them all!
Shop now or call to speak with a sales associate for additional assistance.
Earthwood Collections, 970.577.8100